Herer is a recording of John singing Funiculi Funicula with the Glyndebourne Festival Opera Chorus from a Southern Television show called 'Music in Camera' which was first broadcast in 1978/79 and was directed by the great and much missed Dave Heather, vintage Rawnsley, with a darn good high B flat at the end!
The accompanist is the supremely gifted, the wonderful Robert 'Bob' Docker

John had just begun his career with English National Opera North and had gone back to Glyndebourne to sing 'Marcello' in La Boheme in 1978. During that summer of '78 John and the Glyndebourne Chorus recorded two TV programs for Southern Television at their Southampton Studios.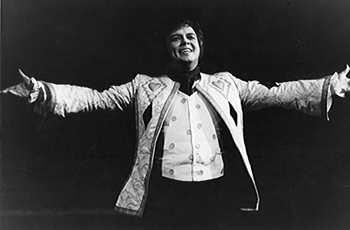 John is greatful to 'marcomirandaxx' for kindly posting a clip of him singing the aria 'Largo al Factotum' from the Glyndebourne production of 'Il Barbiere di Siviglia' on YouTube. Please follow this Il Barbiere di Siviglia link and take a look!
John is also grateful to Shawn Melon for posting on YouTube the film of English National Opera's famous production of 'Rigoletto', directed by Jonathan Miller, and it can be viewed in its entirety by following this Rigoletto link to YouTube.

Here is a recording of John singing 'We Are Equals' (Parisiamo) from the English National Opera recording of 'Rigoletto', conducted by Mark Elder with the English National Opera Orchestra.
John Rawnsley's recordings to date include The Beggar's Opera (Argo), Don Giovanni ('Massetto'), Rigoletto ('Marullo'), EMI. The title role in Rigoletto (Chandos) and A History of Italian Opera 1820-1830 (Opera Rara).